DJ @ NEON Magazine, le premier anniversaire
Je vais jouer a Daikanyama M! ;-) I'll play at Daikanyama M on 16 September, for the 1st anniversary of NEON mag, a Tokyo-based magazine introducing culture of Tokyo in French.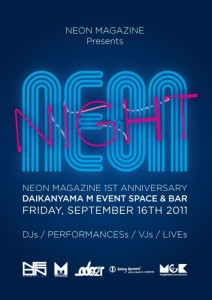 UPDATE 2011.9.8
Short interview article: http://www.neonmag.com/2011/09/neon-night-vol-1-nao-tokui/
/// NEON Magazine presents NEON NIGHT Vol. 1 ///
/// Friday 9.16 @ M Event Space & Bar Daikanyama
/// 21:00-05:00
NEON Magazine, le magazine de la culture et de la création Made in Tokyo, is proud to announce his first event ever, the NEON NIGHT Vol.1, to celebrate his 1st anniversary.

Be there, support us and enjoy !
http://www.neonmag.com/
http://www.m-event-bar.com/
LINE-UP
DJs/
Nao TOKUI (PROGRESSIVE FOrM/op.disc), http://www.naotokui.net/
David DICEMBRE (Combine), http://www.combine.jp/
Julien Sato (MGKC), http://julien-mugenkai.tumblr.com/
… And a very special secret guest !
PERFORMANCEs/
Live painting by Fantasista Utamaro, http://www.fantasistautamaro.com/
Photo by Photographer Hal, http://www.photographerhal.com/
VJs/
Masato TSUTSUI, http://adsr.jp/
Yousuke FUYAMA, http://yousukefuyama.com/
LIVEs/
hajimeinoue, http://hajimeinoue.net/
Moskitoo, http://moskitoo.com/
entrance ¥1,000 (with 1drink)
—
M Event Space And Bar
Daikanyama Court B1, Ebisu Nishi 1-33-18, Shibuya-ku
東京都恵比寿西1-33-18 コート代官山B1
http://www.m-event-bar.com/
http://m-space-tokyo.tumblr.com/
Supported by :
Mugenkai Communication, http://www.mugenkaicommunication.com/
Kissing Kourami, http://www.kissingkourami.jp/